Pits or imperfections on the surface of your concrete floor can detract from its appearance and diminish its luster and shine. Even the best coating cannot hide the blemishes and stains that have accumulated over the years. The best way to restore the look of your concrete flooring is through concrete polishing. Our team will buff out stains and imperfections to make your concrete floor a smooth and even once again. From grease stains to scratches, our concrete polishing service will erase any blemish. We will follow up with a sealant or coating to help protect your floor from future damage and give it that glossy shine.
Whether you are looking to restore the faded color of your concrete floor or seeking a change, we provide professional decorative concrete staining services to help you achieve the look you want. There is an endless selection of colors and designs you can choose from to customize the appearance of concrete flooring to complement your home or commercial space. We not only assist you with the decorative work but we will also be happy to help you explore possible options to find something that meets your needs and satisfies your aesthetic preferences.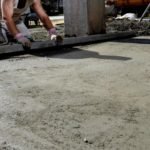 Although concrete floors are highly durable, there are a number of measures that may be taken to help improve the performance of your floor and protect it from stains, damage, mold, and mildew. Concrete Staining Pro Chattanooga offers a variety of floor maintenance services to assist our clients in restoring and caring for their concrete flooring. We can buff out imperfections, enhance color and shine, or seal your concrete as needed. Contact us for help with the maintenance of your concrete floors.
A quality coating can extend the life of your concrete floor and preserve its condition and appearance. We can assist with garage floor coatings, as well as floor coatings for floors in other areas of the home or in large commercial spaces. There are a variety of options that our clients can choose from depending on their needs. Our terrazzo epoxy coating and metallic epoxy coating are popular choices that deliver in terms of both form and function. Protect your concrete floors from stains, mold and mildew, impact damage, wear and tear, and more with our concrete floor coating services.
Professional Floor Maintenance in Chattanooga
At Concrete Staining Pro Chattanooga, we are pleased to be able to lend our assistance to clients for all issues and concerns pertaining to the maintenance and protection of their concrete flooring. Whether you are looking for help with preventative maintenance or require our services to help you with the restoration of a worn or damaged concrete floor, our team will be happy to work with you to ensure your needs are met. You can contact us for concrete polishing, floor coatings, stained concrete services, and more. We are the best company in the city of Chattanooga for affordable concrete floor maintenance services.