How do I protect and maintain stained concrete?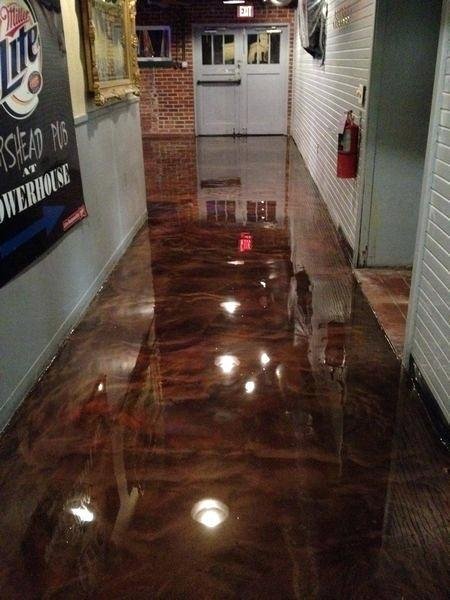 If you're someone who just had new polished concrete floors installed, you may be wondering what the next step is in terms of maintenance. What exactly do you need to do to make your concrete staining look as polished as the day it was put in? Do you even need to do anything at all for something as robust as concrete? Fortunately, if you're looking for answers to these questions, you've come to the right place.
Let's start with that second question first. Yes, there is some active maintenance that you must do in order to get the most out of your concrete staining. However, this isn't a cause for any concern. Once you know what to do, taking regular care of your stained concrete floor will be easy.
Now to tackle the first question; what exactly do you need to do? There are several maintenance tips we recommend so you can keep your polished concrete looking nice and new. First and foremost, apply a few coats of either sealer or wax to your concrete. These will help maintain the color and shine of your floors. Typically, sealers are applied to outdoor concrete, while wax is applied to indoor concrete. However, there are some sealers that can be used indoors, like acrylic and epoxy sealers; likewise, there are some waxes that can be applied outdoors. You will have to reapply these every so often, depending on which sealer or wax you use and the relative traffic of the area where the floor is laid, in order to get the maximum out of your polish. Once you have chosen and applied your sealer or wax, be sure to apply floor protectors to your furniture to protect your floors even further.
After the sealer or wax has been applied to your floor, regular cleaning is a must for your floors. Mopping is an essential part of maintaining your concrete floor. For indoor floors, dry mop or vacuum once a day to eliminate any dirt or dust that has accumulated. This way your floors won't get scuffed and scratched as easily. Additionally, wet mop with a mild cleaning solution periodically depending on the traffic area of your floor. Do NOT use industrial or commercial cleaners on polished concrete floors; the pH level can damage or outright strip your fresh wax finish. For outdoor floors, it's the same process. Get rid of any built-up dirt and yard debris by using a broom, leaf-blower, hose, or any other similar appliance you have. Then use water and a mild cleaning solution, again making sure not to use anything too harsh if you applied wax to the concrete. If you have not applied wax, then a harsher cleaning solution can be used, though be careful to check if it contains any chemical that could potentially strip your sealer.
And that's really it! Now, with regular cleaning and a periodical reapplication of wax or sealer, you'll be able to enjoy your concrete floors for many years to come.
​Read More